Coming Soon!!
BRAND-NEW Million-Dollar Managed Services Marketing Blueprint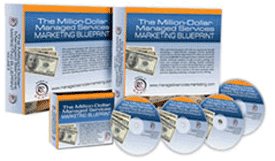 A Complete MSP Marketing System Guaranteed To Deliver More And Better Qualified Clients For Your Managed Services Business
I am RELAUNCHING the Managed Services Blueprint! If you want to work directly with me over a two-month period to revise and revamp your managed services sales and marketing plan, then fill out the form to the right to sign up for updates on this program.
With the Managed Services Blueprint, you will get the MOST COMPREHENSIVE, COMPLETE, and EASY to follow marketing system for selling managed services that has already been PROVEN to work by thousands of MPSs from around the world.
You will also learn what other MSPs are including and charging for their managed services plans, how they are structuring their deals, and other insider secrets from multi-million dollar MSPs for building a profitable, fast-growing manages services business from the ground up.
Fill Out The Form To The Right To Get Notices And Alerts About This NEW Program As Soon As It's Available

Yes! Let Me Know First!
Sign Up To Get Updates On The New Managed Services Blueprint And Be One Of The First To Know When It's Relaunched
Here are just a FEW of the highlights from the program:
You'll get over a quarter of a million dollars of done-for-you marketing templates and campaigns; you would spend that much or MORE if you hired a copywriter or marketing agency to research your marketing and develop the letters, web pages, e-mails, sales scripts and other documents that are included in this program, ready to use. Plus, these are GUARANTEED to work since they have already been tested and proven to work over and over again.
The exact process outlined step-by-step for building an auto-pilot lead generation machine – once implemented this system will feed you with high-quality, "sweet spot" clients for years to come while positioning you as the most credible and qualified MSP in your area. Best of all, it doesn't require a big marketing budget or sales team to work.
You'll learn exactly what marketing tactics are working right now to deliver the biggest quantity and quality of clients, and which ones are a complete waste of time and money and should be avoided at all costs.
You'll learn my "slippery slope" sales presentation that puts you in a position of power and influence with your clients instead of looking like "just another" scared, insecure salesman desperate for business. This process will instantly cause prospects to see you as a trusted advisor, and you will command the respect you deserve.
The "objection eraser" process that's like truth serum for your prospects; use this and you'll easily overcome even the toughest managed services sales objections of "Why do I need this," and "I don't see the value."
How to precisely determine WHO the most profitable and responsive target market is for selling managed services.
A pre-appointment questionnaire that will eliminate price shoppers and unqualified prospects in minutes so you don't waste your time and efforts chasing deals that will never close.
The market dominator system that will enable you to OWN your marketplace and become the #1 best-known, most respected MSP in your market in less than 6 months.
An exact formula for determining exactly how much you should charge for your managed services to guarantee a better than average net profit. Hint: Most MSPs are grossly undercharging because they don't understand this process. Ignore this and you'll work like a dog and have nothing but empty pockets by the end of the year.
How to use "poor boy" online marketing (web sites, social media, e-mail, videos and blogs) to drive more new leads into your sales funnel for pennies or ZERO cost.
My Competition Castration System that will eliminate any other competitor from your prospects radar – even if they are bigger or cheaper than you.
How to build a hyper-responsive list of qualified decisions makers; one of the tactics I'll give you enabled a client of mine build a rock-solid database of 582 decision makers and $243,382 in NEW sales in just 4 weeks! This strategy ALONE will be worth the price of admission.
The "3-step" managed services marketing system that is consistently generating $6 in sales for every $1 spent on marketing – this campaign is SO successful it was written up in DM News (Direct Marketing News). This has to be THE most successful marketing campaign EVER WRITTEN to sell IT services, bar none.
A simple script that will eliminate the "I need to think it over" objection and get the prospect to buy IMMEDIATELY.
A seminar marketing system that will enable you to close $100,000 or more in new managed services contracts a single afternoon; I'll give you the exact formula to get decision makers in the room and close them on the spot.
My holiday marketing booster that will secure you a better than average response on EVERY campaign you run, be it offline, online or any combination. One of these campaigns consistently generates a 200% to 800% return on investment.
Simple, easy tricks using e-mail marketing to guarantee a double-digit click-through and response rates that almost NO IT firm gets right; if you are sending HTML e-mails I can guarantee you're not doing it.
A new "voice broadcasting" telemarketing system that will enable you to prospect hundreds – even thousands – of businesses automatically without making a single cold call.
My "fool proof" marketing campaign checklist that will instantly reveal whether or not your marketing campaign will generate a response– be it a web site, postcard, Yellow Pages ad or flyer.
A telemarketing script that will guarantee a healthy, hyper-responsive, highly qualified list of prospects – you should NEVER mail ANY list without using this "scrub" first; best of all, you don't need an experienced telemarketer to do it.
The single fastest and easiest way to secure more new managed services clients, bar none. One client of mine secured over a MILLION DOLLARS in new managed services sales by using this one simple strategy alone.
The First Campaign Brought In $36,000... The Second Brought In $20,000
"When I first saw Robin's Million-Dollar Managed Services Blueprint, I was really skeptical; it sounded a bit too good to be true. But I decided to give it a try... after all, what did I have to lose? Looking back I'm VERY glad I enrolled. Using her materials as the foundation of our managed services offering, we were able to get over the '$1 million' hurdle and are now at $1.5 million. The first campaign we rolled out brought in $36,000 in annual revenue, and the second brought in about $20,000. The first two campaigns were targeted to a small base and in total cost me under $1,000 to run so I see it as a good return on investment. It was a personal challenge to not change anything and just run the whole thing, and I'm glad I just did it. But the biggest benefit to me was helping me to understand hot to approach my IT marketing plan and hot to articulate to my clients what I was offering... and not in a geeky technical way, but in a way that really resonated with them. The worksheets provided a great guide on what to do and how to do it. Plus, it was just good general MSP training for building an MSP marketing plan for my managed services business. The Blueprint really is a GREAT investment and you won't be disappointed. I highly recommend it to any MSP who needs help in IT marketing."
We Went From Financing Payroll With Credit Cards To Generating Over $19,400 In Bottom Line Profits Every Month
"All I can say is that we are going gangbusters with managed services. The entire pitch has come from your materials and telesemninars and it's really working. We went from being worried about paying the bills and financing payroll with credit cards, to being PROFITABLE on the 1st day of each month. We are only 6 months into your materials but now we're generating over $19,400 in recurring, bottom-line profits."
We Sold 15 New Managed Services Contracts In 4 Months
"I bought Robin's program last year at SMB Nation and it has been a tremendous eye-opener for me. Up until that point, we had sold clients quarterly onsite maintenance visits, project work, and break-fix services, but nothing like the managed services program we offer today. The biggest benefit to me so far has been the framework to move forward on selling managed services. You gave us the model for packaging, pricing, and promoting it to our clients, which we did very successfully. Under your direction, we went to our existing clients first and sold 15 contracts within 4 months. This not only helped our overall revenue and profitability, but it also revealed a number of operations holes in the business that we needed to improve. Thanks to this surge of new business we are much more efficient at servicing our client. Your materials, coaching, and advice have provided us the confidence and encouragement to move forward. Your recommendation of 'don't wait for the perfect plan – just start moving' was invaluable. You have been a tremendous help to us and it's been a lot of fun to see this project unfold. Thanks for all you do!"
Total Revenue Up 57.1%
"Although money was tight, I knew I needed to invest in learning how to market my business - and I needed to learn it fast. So when I heard about Robin, I jumped in with both feet and purchased the Toolkit and Managed Services Blueprint, an investment that has really paid off. The year-over-year growth is as follows:
Total Revenue: +57.1%
Gross Profit: +27.1%
Total Income: +26.3%"
Our Recurring Revenue Is Up 87%, Profit 292%!
"Thanks to Robin's MSP marketing, we've converted all of our clients to managed services and now total income is up by 41% and gross profit is up by 292%! With the economy as bad as it is, I'm not even sure we would still be in business had we not had the IT marketing handled."
With Robin's Materials, It's A One-Call Close
"I can clearly see the pattern of growth since becoming involved in Robin's program, and this has been our best year yet! Overall, we are averaging better than 20% growth annually right now and are tracking a 25+% increase year to date. More importantly, it was the year we showed our most substantial net profit, after all salaries, benefits and bonuses."